New High Volume Equipment
The Newest Member to our Ever Expanding Fleet!
MixOnSite has two high capacity production units allowing the General Contractor and Owner to save time and money on their projects.
Constructed in 2015, our newest automated mobile batching equipment is capable of producing up to 400 cubic yards per hour. This state of the art, high production batching equipment utilizes colloidal (high shear) mixers to produce a homengenous slurry that results in a more consistent and higher strength product. The slurry is delivered to the concrete pump before it is injected with our preformed foam.
Another new unit will be added to our fleet in Spring 2016.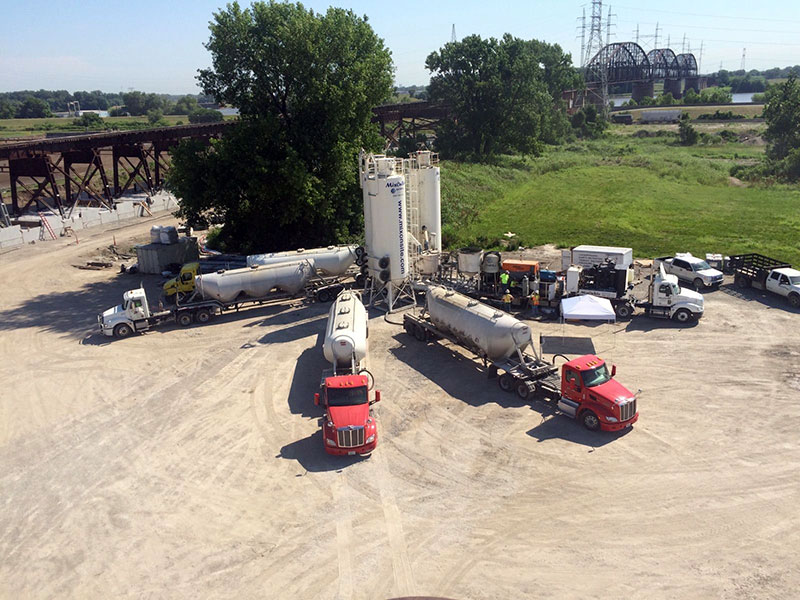 Modular Equipment Allows Quick Set-Up
Project Spotlight - WisDOT Zoo Interchange
This project called for the production and placement of Low Density Cellular Concrete as a load reducing backfill adjacent to MSE Walls.
The project specifications required two Geofill Low Density Cellular Concrete products: Grade 1 (36-40 pcf / min 70 psi) and Grade 2 (44-50 pcf / min 120 psi).
22,000 cubic yards of Geofill Cellular Concrete was produced onsite using our newest high capacity mobile batch plant.

Less Forming Required Due to Speed of Placement
Tags: low density cellular concrete , mse walls , batching equipment , mixing equipment
« Back